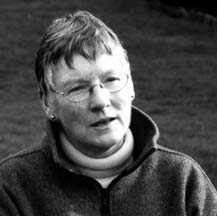 Margaret Thompson was born November 5, 1940 in Surbiton, England. That is Guy Fawkes Day, but the only fireworks that year came from the Blitz. She started school just a few weeks after the atom bomb was dropped on Hiroshima, when she was not quite five years old. She could already read.

Later she attended a Church of England elementary school, and after passing the dreaded 11+ exam that all children took before going on to a secondary school at that time, went to Wimbledon County School for Girls (a Grammar school, an academic high school.) In 1959, she went to Westfield College at London University to read English, and graduated in 1962 with a BA (Hons) degree. This was followed by a year at Exeter University for a Dip.Ed. and then a first teaching job at her old school. Much later, she earned her M.A. from San Diego State University.

In 1963 she married Alan Thompson, a Physics lecturer at Chiswick Polytechnic. She left teaching temporarily with the arrival of her sons Jeremy and Simon, and the family emigrated to Canada in 1967, when Simon was five weeks old. Their first home in Canada was in Merritt, B.C. where her daughter, Joanna, was born. After three years there, they moved to Madeira Park. Margaret subsequently taught English in Sechelt and then spent 20 years in Fort St. James, where she was the senior English teacher in the high school and also taught university transfer courses for the College of New Caledonia.

Margaret Thompson has taught other people how to write for years, and frequently wrote plays for her students. She began to take her own writing seriously in the early 1990s and self-published a collection of prose and poetry about the early days of Fort St. James in 1992, specifically for the Gift Shop at the National Historic Site in the town. The information acquired in her research for that project gave her the material for her first children's book, the YA historical novel, Eyewitness (Ronsdale, 2000) which won a BC2000 Book Award. Earlier, in 1996, her collection of short stories, Hide and Seek (1996) was published by Caitlin Press.

On retirement from teaching in 1998, Margaret Thompson left the north for Victoria and year-round gardens. She lives in a house that overlooks the farms that sweep down to the sea, with a great view of Mt. Baker and Haro Strait. She has one Siamese cat, a Basset hound, and is visited every day by the peacock that lives in the neighbourhood. She also has four grandchildren, two of whom also live in Victoria.

She wrote another children's book, Fox Winter, (Hodgepog Books, 2003) which is based on a real encounter with an injured fox in her own backyard. This was followed by a collection of travel essays, Knocking on the Moonlit Door (NeWest, 2004) and a further essay collection, Adrift on the Ark: Our Connection to the Natural World (Brindle & Glass) in 2009. Her first novel for adults, The Cuckoo's Child, (Brindle & Glass) was published in 2014. She has also contributed to five anthologies.

She joined the Federation of BC Writers in 1992, served on the board for a number of years, and as president for two terms. She is also a member of The Writers' Union of Canada.